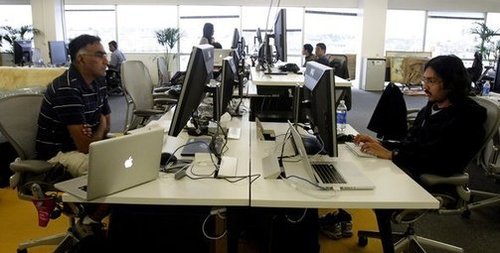 Written by Nick Bilton on the NYT Bits Blog.
Google and Facebook are being left behind in the shift toward mobile, and the amenities available to their employees might offer some explanation for a slow transition.
Google and Facebook, young and successful companies that they are, risk being left behind as technology shifts from PCs and Web browsers to mobile devices.
This month, when Google showcased a new design for Google Plus, the company's social network, it was as if mobile phones and tablets were still a glimmer in some future inventor's eye. The made-over Web site was beautifully designed, but the smartphone app and mobile site were completely ignored. During the site's redesign, a Google spokeswoman told me, "Today, the mobile experience will not change."
Facebook is also struggling with mobile, as evidenced by its recent $1 billion acquisition of Instagram. Its mobile app, which is sometimes painfully slow, was updated only after the Web site was redesigned for Timeline.
I have a theory on why they both have been slow to capitalize on the shift to mobile.
It's that working at these companies is like going to work on an all-inclusive cruise ship. The analogy is apt in terms of the luxury — and the isolation.
See on bits.blogs.nytimes.com