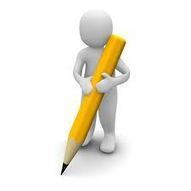 Committing to blogging and the process of content marketing is often a big hurdle for our clients.
They see the benefits of blogging but it takes some time to achieve buy-in. While beginning a new content marketing campaign may a big step for B2B companies and may pose a challenge in getting firm wide buy-in, it is certainly worthwhile and exciting to move in a new direction. In conquering this hurdle, a content marketing champion is likely to face a number of questions, "So, how do we come up with content?" "What if we run out of ideas?" "Who is responsible for coming up with topics?".
Creating a Content Matrix
We generally help our clients answer these questions by developing a content matrix, which is essentially a table or list of potential ideas for blogging, videos, presentations, etc. that they can draw from.
The content matrix generally includes a list of topics, a call to action for each topic and a person who is responsible. This way, none of us can ever use the excuse, "But I don't know what to write about!" What most of us don't realize is that there is a wealth of knowledge, content and topics accessible to almost every business professional.
Below is a list of surprisingly easy ways to generate content and ideas for your own content matrix. Many of these draw on things that you probably already do as a part of day to day business.