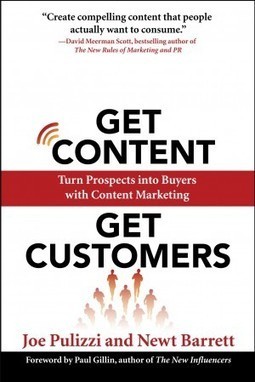 Written by Joe Pulizzi
10 amazing content marketing books that will help persuade your boss (CXO) to give you more budget for content marketing in your company….
I consider this David Meerman Scott book mandatory reading for all marketers.  This best seller, now published in over 25 languages, clearly states the case for why we need to think about marketing differently. A big part of that…the creation of valuable, relevant and compelling content that positions you as the expert in your industry.
Yes, forgive me…this is my book written with my co-author Newt Barrett.  This was the first book that really talked about the content marketing industry as we know it today and how to actually handle the changing rules (as DM Scott describes above).  The first half of the book tells you the why of content marketing…the second half is chock full of online, print and integrated case studies.
Where Get Content Get Customers leaves off, Content Rules ramps it up a notch, with clear instruction and motivation on everything from content strategy to newsletter creation to blogs and social media…with some amazing case studies along the way.  Really like the practical tips in this book, like how to develop a publishing schedule and ideas on "reimagining" your content across different platforms.
And, it couldn't have been written by two better people: Ann Handley and C.C. Chapman.
This incredible resource from Ardath Albee is one I recommend to marketers very focused on the B2B industry.  Ardath details the complex sales cycle that most B2B marketing executives deal with and the important the role that content serves in each of those stages.  Do you have a long sales cycle with multiple client touch points? If so, this book can't lose.
Sorry, guilty as charged…mine again.  This time, Robert Rose leads the charge.  Simply put, if you are a marketer trying to actually develop a content marketing practice within your organization, this book will help you with the structure and process.  This is not a book for the beginner, but for the believer that wants to take the next step.
Via blog.junta42.com